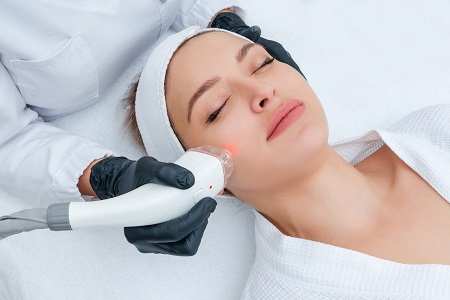 The laser skin tightening treatment is a popular cosmetic treatment to help reduce the appearance of sagging skin and wrinkles. The laser treatment uses lasers to tighten the skin by stimulating the body's natural collagen production. It works by heating the collagen under the skin's surface, which then causes the skin to contract. As a result, the skin is tightened, and wrinkles are decreased. A laser skin tightening treatment can be used on the face, neck, chest, or hands.
Types of Treatments
Laser Hair Removal
Laser hair removal is a non-invasive cosmetic procedure that removes unwanted hair by targeting active follicles below the skin's surface. With laser hair removal, hair can be removed from larger areas. The laser only affects actively growing hair follicles. Therefore, the treatment time required is significantly less than that of electrolysis. With electrolysis, each hair follicle must be removed individually.
Morpheus8
Morpheus8 treatment is a revolutionary cosmetic procedure that combines the power of radiofrequency energy and microneedling to rejuvenate and transform the skin. With its cutting-edge technology, Morpheus8 delivers precise and controlled fractional remodeling deep into the dermis, stimulating collagen production while resurfacing the outermost layer of the skin. This innovative treatment targets various concerns such as wrinkles, fine lines, acne scars, uneven texture, and sagging skin. By utilizing tiny needles to penetrate the skin's surface at customizable depths with thermal energy emitted from RF waves, Morpheus8 triggers a natural healing response within the body. The heat generated tightens existing collagen fibers while promoting new collagen production for long-lasting results. 
To learn more about our medspa services or schedule your appointment, call Iconic Skin Clinic at (714) 225-5137.