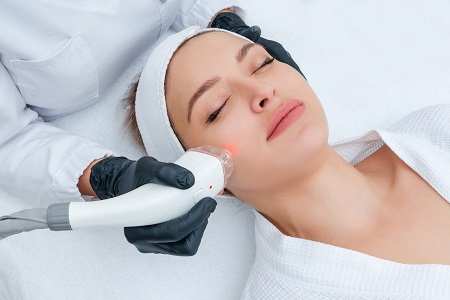 The laser skin tightening treatment is a popular cosmetic treatment to help reduce the appearance of sagging skin and wrinkles. The laser treatment uses lasers to tighten the skin by stimulating the body's natural collagen production. It works by heating the collagen under the skin's surface, which then causes the skin to contract. As a result, the skin is tightened, and wrinkles are decreased. A laser skin tightening treatment can be used on the face, neck, chest, or hands.
Types of Treatments
Laser Skin Tightening Techniques
Laser skin tightening, like other laser treatments, is non-surgical and non-invasive, which means there are no incisions or sutures involved. Patients are put under local anesthesia in order to ensure optimal comfort during the procedure. During the treatment, a high-energy laser is passed over the treatment area, which heats skin tissue and stimulates collagen production in the body. The laser also seals off blood vessels and stimulates the production of new collagen. Collagen is a naturally occurring protein in the body that is responsible for skin elasticity. Stimulating collagen production in the body aids in improving the appearance of loose skin, wrinkles, and fine lines.
Laser Skin Tightening Results
Laser skin tightening uses light energy to gently heat the skin and connective tissue below, which in turn liquefies fat cells and causes the skin to tighten. Patients can see results soon after one treatment, though a course of treatments is often recommended to achieve the best results.
To learn more about our medspa services or schedule your appointment, call Iconic Skin Clinic at (714) 225-5137.